Round Trip Ticket: Senior Director, Technical Consulting Joe Alviani Returns to Salesforce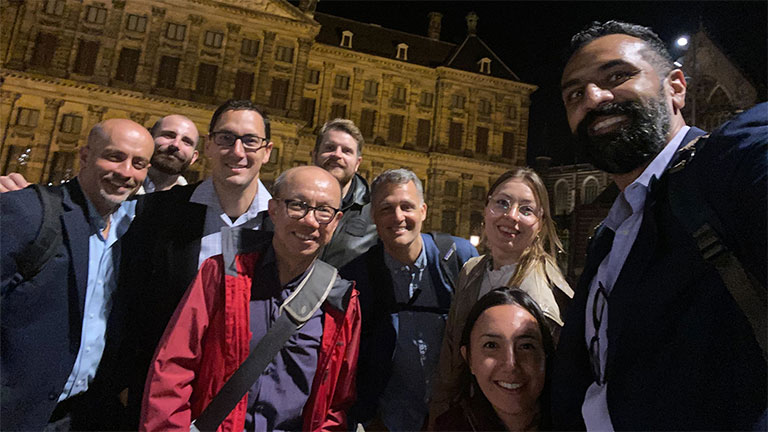 By Danielle Savino
Meet Joe Alviani. Joe is based out of New Jersey and works remotely. He started his journey with Salesforce in 2003, as a customer, and later began his Salesforce career in 2012 as a Technical Solution Architect — a role he held for five years.
He left for an opportunity at an employee benefits vendor but, after a few years, realized his journey on the inside, as a Salesforce team member didn't make it to the end of the runway.
Read on to learn more about Joe's ticket to a round trip adventure with Salesforce.
First Stop Salesforce
Joe first built a relationship with Salesforce when he was on the customer side of the business, back in 2003. As Joe reflected on his customer experience he explained what drove him to start watching job openings and apply for a role at Salesforce. Like many customers turned employees, Joe felt getting an even closer, inside look at Salesforce just seemed natural.
"I wanted to get more exposure to what made the company tick. It felt like a family the first time I walked through the door. Everyone was so supportive. I'd never felt that before with any company. The sense of trust was immediate."
Here at Salesforce, we ensure our employees have guidance, inspiration, and support from their manager and leaders as they grow their careers. Throughout his multiple roles at Salesforce he's embraced the thrill of trying a new job. If the opportunity is there, Joe is willing to embark on the adventure and experiences along the way.
As someone who's had a successful and multi-faceted career within Salesforce — twice — Joe reminds us about the importance of boldly trying new things and that not all career growth is linear. He offers some insight on how to grow your career at Salesforce:
There's no better place than Salesforce to learn and grow your skills
Chase opportunities to learn, grow, and find satisfaction in what you do every day, not titles
Don't fear what might happen; be aware of what could happen
Always be open to opportunities, even if they're outside your comfort zone
This exploration will help you develop new skills while learning more about yourself. Tap into the resources at your disposal — like Trailhead, which offers free on-demand guided learning modules on a variety of topics.
"The greatest experiences I've had at Salesforce have been outside my comfort zone. Don't be afraid to ask for help. People here don't judge you for not knowing something. They're genuine and always ready to help."
Joe's in the Jumpseat
When Joe was offered a position by an employee benefits vendor, it allowed him to use what he'd learned at Salesforce in new ways. He hopped in the jumpseat and embarked on a new opportunity, in true adventure-seeking fashion.
Joe's extensive experience in customer relationships prepared him for the task of maintaining a healthy book of business. To Joe, this meant keeping in touch with his existing customers and clients as he cultivated new ones. – From Joe's perspective, "It was an opportunity to own a book of business, innovate on new products, and contribute to transforming their go-to-market strategy."
Layover
During his three-plus years working elsewhere, Joe kept in touch with colleagues at Salesforce. Through these close connections, he learned how Salesforce was continuing to grow and change. This was an ideal time, he saw plenty of fresh opportunities and new challenges. For the first time in Joe's career, he felt comfortable returning to a company. He'd learned a great deal, and he was ready to "come home."
"The opportunity to collaborate with very intelligent people in an environment of trust — something I valued and had already experienced — was very appealing. I'd be working on large, transformative projects that took advantage of the breadth of what Salesforce offers. I was amazed at how much the company had grown in only three years."
Return Flight to Salesforce
At Salesforce, Joe heads a team of technical architects (TA). He sits in the Salesforce Customer Success Group (CSG) among a team of trusted advisers, partners, and experts crucial to the success of our customers. Our CSG team helps customers unleash the full power of Salesforce, find and implement technical solutions, and provide guidance on how to build new products for our clients' needs.
Joe's team of TAs collaborate with Salesforce customers and partners during project planning and implementation to share their comprehensive knowledge of the Salesforce platform and product suite. Combined with their previous experience in technical architecture, enterprise integration, and business solution implementation, they drive toward the best possible business solutions to meet and exceed customers' needs. They paint a solution vision, architect the system and the implementation approach, and watch it change the status quo. That's "internal" Joe, building out this competency within the organization.
"It's one thing to be very technical. It's another to take that technical acumen, apply it in a business context, and have a conversation with an executive that influences and drives a desired business outcome."
Joe is also responsible for delivery execution on some of our larger efforts where all the workstreams roll up to him. That's "external" Joe.
"My role there is to keep track of how we're doing against budget and deadline. Do we need more resources? How are our communications with the customer?"
For example, a global recruiting company, operating in 38 countries needed a solution to deliver a better experience for the companies and candidates they serve. The solution was to unify their various systems and streamline their processes.
"The project is enormous and complicated, but the desired business outcome is simple. Help the customer use the information it has to make better matches for companies and candidates, so people are happier in their jobs, enjoy what they are doing, and stay longer."
Along the way, Joe also noticed many companies grappling with the future of work that has been accelerated by the COVID-19 pandemic.
"Salesforce can help companies make the shift that allows their employees to work from anywhere. Part of this transition will rely on tools that provide process automation to streamline repetitive tasks so employees can focus on higher-value activities for their company."

Joe and his team on their trip to Amsterdam for a Customer meeting.
Keeping Culture and Benefits on the Radar
Like giving back to the community, striving for equality, and supporting the Racial Equality and Justice Taskforce — achieving work-life balance is an important part of the Salesforce culture. "It's part of an ongoing conversation," he notes. "We're encouraged to work hard and play hard."
"I'm grateful for the opportunity Salesforce gives me to take time off to be with my family and engage in the community I live in."

Joe with his wife, son and daughter.
"Outside of Salesforce, work always seemed to take up so much time that being able to help others was always just out of reach. But Salesforce puts a lot of effort and attention into giving us that opportunity. They strongly encourage us to engage in our community. Volunteer Time Off (VTO) is a big part of the culture." Joe's VTO activities have been guided by events in his personal life.
"My focus has changed over time. It's not hard to find ways to serve those around me. Joe joined one of our Equality Groups, employee-led organizations that support our underrepresented communities. Joe follows Abilityforce, which unites people with visible and invisible disabilities, employees with loved ones who are disabled, and allies. He has a personal connection that makes this work not only meaningful for the community but a true life passion for him. Abilityforce works to make sure our physical and technological environments are accessible and designed for all by developing and implementing innovative practices that solve customer and employee needs. They aim to cultivate a culture where all employees feel empowered by their abilities and talents, and work to advance our company's dialogue on accessibility and accommodation strategies. "I am always seeking ways to make our communities more accessible and inclusive through my service activities. That's why at Salesforce we strive to ensure our physical and technological environments are accessible and designed for all."
To learn more about Abilityforce, tune in to their episode where Salesforce employees discuss workplace accommodations and how to host an accessible meeting, even in a virtual world. Want to learn more about Joe's career journey? Connect with him on LinkedIn! Or, if his story has piqued your interest in careers at Salesforce, go ahead and explore open roles today.