Staying Curious: Building a Career and Community in Customer Success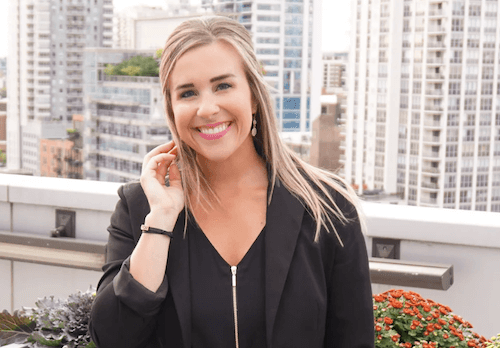 By Kaycee Oyama
Kelly Nash, Principal Success Manager at Salesforce, started her journey in tech in 2014 after finding a role through her network. "I was excited about joining the tech industry because I knew it would keep me on my toes. Eight years later, I can confidently say that it has and continues to do so each and every day."
Throughout her years with Salesforce, Kelly has continued to challenge herself and elevate her career, moving through five roles and six different teams. Initially joining as an Account Manager and then becoming a Marketing Consultant, Kelly progressed to Senior Client Partner before landing her most recent title as a Principal Success Manager for Marketing Cloud.
Interested in growing your career at Salesforce? Join our Talent Community to stay up to date on the latest career opportunities at Salesforce.
Mapping out success
In her current role, Kelly helps companies identify gaps and key opportunities to solve their business challenges. Through strong relationship building, Kelly offers strategic guidance to help marketing teams connect with their customers in new and innovative ways.
This entails understanding her customers' needs and co-creating business value maps and project roadmaps. Together, they consider business priorities, marketing objectives, and success measures while mapping those to key Salesforce Marketing Cloud capabilities to help them achieve their goals. Kelly finds this essential to driving customer success.
Kelly's favorite part of her role is being a trusted advisor, steering the customer toward business outcomes and seeing their goals materialize. "I love being able to witness the growth that comes from putting to action what we set forth. It's rewarding for me to bring different teams together to see their progress from start to finish and help [goals] successfully come to life."
Growth by curiosity
Through her many roles at Salesforce, Kelly has seen a consistent trend — her growth and opportunities are fueled by her curiosity, as well as supportive leadership. "I've learned that curiosity is always within reach and it's a powerful tool to advance your career. My managers and other leaders at [Salesforce] have allowed me to explore new roles and opportunities. For that, I'm incredibly grateful."
After working in Salesforce Professional Services for 6 years, Kelly became curious about a success manager role to challenge herself. "I aimed to strengthen my skills as it related to business value and strategy, executive level relationship building, and public speaking." Now as a Customer Success Manager, she's been able to accomplish those goals and expand her skillset, continuing to use her curiosity to meet new people and build connections at Salesforce.
Outside of her role, Kelly has led with curiosity to seek out ways to get involved that align with her values and passion for career development. Through intentional, focused outreach and targeted conversations, she's been able to build genuine relationships that have opened new doors. She became a high-impact teaming facilitator, internal career coach, and co-chair of talent development for a local chapter of an employee resource group (ERG). "What I've learned in my career, but especially at Salesforce, is that the key to career success is following your curiosity and building quality relationships."
"I've learned that curiosity is always within reach and it's a powerful tool to advance your career."
Blending personal and professional values
While she guides her customers to success, Kelly keeps Salesforce's core values — trust, customer success, innovation, equality, and sustainability — and her core values close to heart. "Salesforce encourages us to bring our authentic selves to work and to me, that continually inspires and enables me to deliver values-driven work. I'm able to infuse [my personal values] into my customer interactions and all my interactions within the company."
In addition to living her values with her customers and volunteering in ERGs, Kelly also went on an international volunteer trip to Rwanda with Salesforce in early 2020. "We helped the people in the Kigali community learn English and computer skills and trained young businesswomen on entrepreneurship subjects. [That experience] really blended both Salesforce's and my own personal values, all into one. I loved that I was also able to serve the community in a way that was helpful for the beneficiaries. It was so fulfilling."
Empowering women
Kelly co-leads talent development for Salesforce Women's Network (SWN) Chicago, an ERG dedicated to amplifying the progress of women through personal and professional development. In her leadership role, she helps organize events and workshops to help SWN members upskill, discover new resources, and gain confidence in their professional endeavors.
Through SWN, Kelly and fellow members aspire to create a space where women gain "the confidence needed to advocate for themselves, stand out, and take on leadership positions while sponsoring women along the way."
Her most memorable event with SWN was when she conducted a networking workshop with a former colleague for employees and the Chicago community. "The goal was to empower attendees to think about ways they can build thriving career relationships and elevate their careers in the process. The event was a hit. The women gained clear steps they needed to increase their confidence and maximize their network."
Moving forward, Kelly is excited about SWN's continued impact as well as its partnership with Salesforce's Career Development team. Together, they're piloting a new program to help employees further their careers at the company.
"This [work] is blending so many of my passions together as it relates to women empowerment, gender equality, and career development. I can't wait to see the impact this initiative will have."
Grow your career — Learn more about our Customer Success team at Salesforce.