Unexpected Journeys Lead to Opportunities for Impact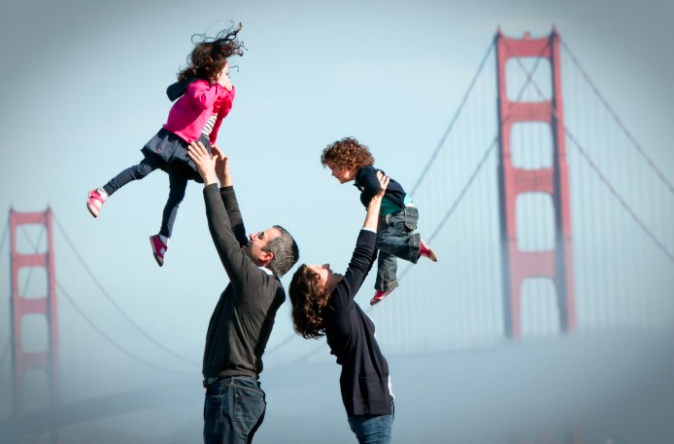 As the parent of a child who is hard of hearing, Salesforce exec Mike Wolff is an active supporter of mentorship and disability inclusion.
New parenthood comes with a lot of unknowns, from feeding to diapering to fitting a new person into your lifestyle. Thirteen years ago, these were the expectations of Mike Wolff, SVP of Global ISV Partners at Salesforce, and his wife Katie.
So when their daughter Samantha ("Sam") was born hard of hearing, they had a whole new set of challenges to navigate.
"When something is different or unexpected, it's really about how you respond. You can fall into the quicksand of 'everything is wrong,' or you can be inspired and lean into it." — Mike Wolff
Mike recently shared his family's journey, how communities like the Weingarten Children's Center have impacted their lives, and how Salesforce has allowed him to be his authentic self by blurring the lines between professional life and personal passions.
Hearing, Listening, and Understanding
Sam was born with bilateral microtia, a condition where the middle and external parts of both ears fail to develop. Since her first week of life, she's worn a bone-anchored hearing aid (BAHA) on a headband which provides her with the ability to hear through bone conduction.
At the time, the Wolffs were living in Toronto, where they had transplanted in 2006 so Mike could help open Salesforce's (then) new Canada office. But Mike and his wife were still learning about Sam's condition, prompting their return to the Bay Area, where they could be near family and friends for support.
Mike Wolff and his daughter Sam in Washington D.C.
They quickly learned about Weingarten Children's Center, a school in Redwood City, CA that works specifically with deaf and hard of hearing children to help them learn how to listen, speak, and eventually be placed in a mainstream elementary school. At just two and a half years old, Sam started attending the school — and Mike and Katie found a community of other parents who understood exactly where they were coming from.
"I'm thankful for the friendships that have resulted because of the kids Sam has met and the parents we have been introduced to," says Mike. "We have been able to make a broader impact on the lives of other kids and families, allowing us to share the journey we've been on."
Today, Sam is an eighth-grader at a mainstream middle school, where she enjoys math, writing, and, yes, even music.
"It's amazing to learn how the body compensates. Sam is hard of hearing, but she's able to pick up music extremely well."
Blending Advocacy with Professional Life
Mike has worked for Salesforce for 18 years. As an employee with a family member who has a disability, he is also a member, advocate, and executive sponsor of Abilityforce, Salesforce's equality group focused on ability inclusion. But Abilityforce is just one part of Mike's passion for empowering the deaf community and hard of hearing while at work. To him, Salesforce has created an environment where people can share who they are — inside and outside the office.
"What I appreciate about groups like Abilityforce is that I'm able to advocate for what's important to me. I have the opportunity to bring that voice to work and advocate for those who need it. It's another reason why I've stayed at Salesforce for so long." — Mike Wolff
Mike also spends time outside of the office as a member of Weingarten's board. As both advocates and parents of a former student, Mike and his wife can mentor new parents who are in search of resources, help the teachers, and raise funds to support the school (which Salesforce contributes to via corporate matching). Sam also volunteers there and occasionally speaks on panels where she shares her experience with incoming families.
"She helps other parents and kids realize it's going to be ok," says Mike. "She shows them that their kids are in the right spot to learn how to listen, speak, and be engaged members of society."
Together, Mike and his family (including their ten-year-old daughter, Ella) are working to level the playing field for both hard of hearing children and women in sports — their latest endeavor, spawned by his wife's time in softball at UC Davis and simply being a father of two girls. Regardless of where his passions lie, Mike feels confident that he can share his interests at work and feel supported.
"I appreciate the opportunity to be my authentic self at Salesforce, whether it's having fun at a partner event or engaging in something really impactful."
Click here to learn more about the Weingarten Children's Center.