Want To Support the Indigenous Community? Here's How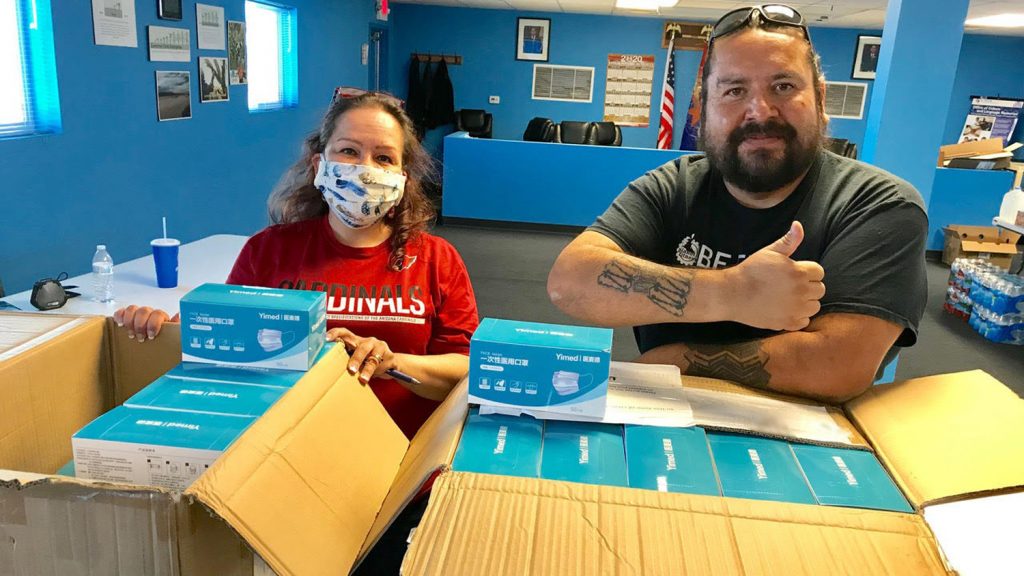 In the midst of the pandemic, Indigenous communities experience substantial challenges in healthcare access, sanitation, and basic household needs. Here's how to help.
We're living in an unimaginable time when health, economic, and racial injustices have added stress to our most vulnerable communities around the globe. Indigenous communities, in particular, experience substantial challenges gaining access to healthcare, sanitation, and basic household needs. Additional barriers include a history of policies and inequitable laws that have hindered solutions and reconciliation, generational mistrust caused by the effects of colonization and a basic lack of awareness and representation on a global stage. All these barriers make it difficult for Indigenous communities to get the attention they need.
This is not lost on us. Technology companies are stepping into the gap and providing emergency help in the short term, as well as building impactful and lasting relationships with Indigenous communities to partner on long-term solutions.
As the global president of WINDforce, our employee resource group (ERG) representing a Worldwide Indigenous Network of Diversity,  I am deeply committed to advocating and supporting our Indigenous communities.
Here are four ways you can take action and empower Indigenous communities today:
1. Partner with nonprofits: Rapid response to COVID-19
When the COVID-19 crisis hit, most people were not aware of the Navajo Nation's size, an expanse of land more than 27,000 square miles across parts of northeastern Arizona, southeastern Utah, and northwestern New Mexico. Nor did they have any idea many of the people there lacked running water and lived in cramped, multi-generation homes.
When Salesforce's Indigenous ERG WINDforce heard how COVID-19 was wreaking havoc on this community, we worked with our executive leaders, in partnership with nonprofit Shift7, to coordinate the delivery of 30,000 gowns and 60,000 surgical masks. That was only the first step. The partnership has grown into a broader effort that included delivery of critical personal protective equipment (PPE) to Minnesota Tribes and the Native American Health Center in San Francisco, California.
2. Make the invisible visible: Raise awareness about violent crime against Indigenous Women
Another aspect of the COVID-19 crisis is that women in abusive relationships are trapped in their homes with their abusers. Before COVID-19, American Indian women were already being victimized by an intimate partner at rates higher than those of all other females  (White: 8.1 per 1,000; American Indian: 23.2 per 1,000). Non-Native perpetrators (individuals of other races) commit at least 70% of the violence against the Indigenous community. This largely invisible epidemic can only be addressed if the greater population is made aware of the problem and advocates for legal reforms to strengthen tribes' ability to prosecute perpetrators.
In July of this year, WINDforce held a speaker event to raise awareness and critical funding for StrongHearts Native helpline, a national hotline designed specifically for these Indigenous women to listen and learn from their cultural perspective. Senior Native Affairs Advisor Elizabeth Carr (Sault Saint Marie Tribe of Chippewa Indians) spoke to over 120 Salesforce employees about the colonial roots of this problem and the legal steps taken to close loopholes in the law. Participants were encouraged to contact their representatives in Congress and to donate and support the helpline via the Native Indigenous Women's Resource Center (NIWRC). If you have the resources, consider hosting a speaker event at your company to raise awareness and create a donation matching plan to support the Indigenous community.
"To change our reality, we must understand it. Not case by case but over lifetimes and generations. The pattern of violence on Native women resulting in the missing and murdered Indigenous women (MMIW) crisis has occurred over hundreds of years. This pattern of violence is what we are screaming to be recognized and resolved," — Elizabeth Carr, NIWRC Senior Native Affairs Advisor, during the event.
3. A seat at the table: Correct racially biased language and instances of appropriation
The Black Lives Matter movement catalyzed a moment of reckoning and reflection across our country. At the same time, Indigneous communities have also notched some victories in the longstanding battle against damaging stereotypes in the case of the Washington NFL team name, and in gaining land rights, as in Oklahoma.
At Salesforce, we practice inclusive language and follow six principles of Inclusive Marketing in all of our content; start with tone, be intentional with language, ensure representation, consider context, avoid appropriation, and counter-stereotype. Learn more in the Inclusive Marketing Trailhead module.
4. Educate yourself: A list of recommended resources from the Indigenous community
As an ally, seek to gain a better understanding of the Indigenous community by learning from them. There are a myriad of experiences and it's important to understand the Indigenous community is not a monolith.
Here are some books to get you started:
"There, There" — Tommy Orange (fiction)
"Beadworkers" — Beth Piatote (fiction)
"The Round House" — Louise Erdrich (fiction)
"Bury My Heart at Wounded Knee" — Dee Brown (nonfiction)
"1491: Revelations of the Americas before Columbus" — Charles C. Mann (nonfiction)
"Crazy Brave: A Memoir" — Joy Haro, the first Native American United States Poet Laureate (nonfiction)
List of 15 recommended books for children about the Indigenous community
Support Indigenous-owned businesses when possible. Here are some options: Birchbark Books, Chickasaw Press, and Great Oak Press.
Podcasts
"All my relations" — Hosted by Matika Wilbur (Swinomish and Tulalip) and Adrienne Keene (Cherokee Nation), the podcast explores relationships — relationships to land, to our cultural relatives, and to one another.
"Unreserved" — Host Rosanna Deerchild takes you straight into Indigenous Canada, from Halifax to Haida Gwaii, from Shamattawa to Ottawa, introducing listeners to the storytellers, culture makers, and community shakers from across the country. The podcast offers real talk from the people behind the headlines, with a soundtrack from the best in Indigenous music.
"This Land" — Hosted by Rebecca Nagle, it's an 8-episode podcast series on how a cut and dry homicide opened up an investigation into the treaty rights of five Native American tribes. Find out how this unique case could result in the largest restoration of tribal land in U.S. history.
As we continue to talk about advancing racial equality around the globe, it is important to think about Indigenous communities who need to be protected, supported, and empowered. Click here to learn more and donate to a nonprofit that supports the Indigenous community.
Photo Credit: President Milton Tso of the Cameron Chapter of Navajo Nation and his Office Manager Candy receiving a PPE donation from Salesforce, Shift7, and UCSF in Arizona in April 2020.
Editor's Note: Natalie is no longer the Global President of WINDforce