What Does Salesforce Do?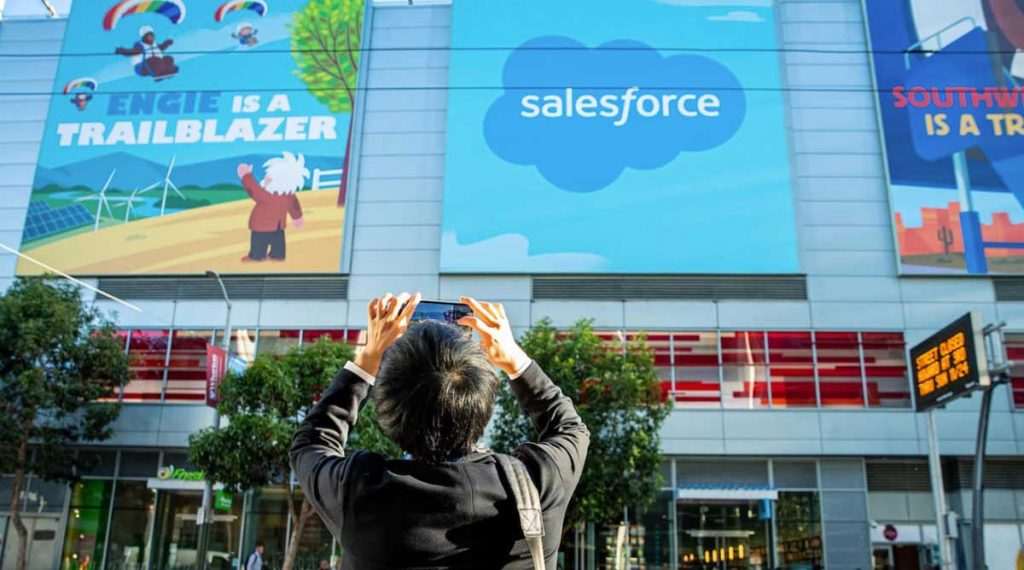 You may recognize our cloud logo or our friendly characters, but still be wondering: What does Salesforce actually do? To put it simply, we bring companies and customers together.
Salesforce helps break down technology silos in your organization between departments so no matter where they are, employees in marketing, sales, commerce, service, and IT share a single customer view.
This enables a deeper understanding of customers on one customer relationship management (CRM) platform.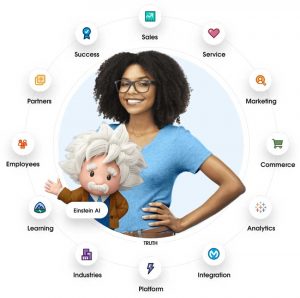 We call it Salesforce Customer 360 because it gives you a 360-degree view of your customers.
Why does this help your teams? This holistic view of each customer shortens the time it takes for your company to resolve customer issues, eliminates redundancies in your communications, and allows you to personalize interactions in order to grow relationships with your customers.
Our tools are also completely digital, so you can respond to customer needs quickly, from anywhere.
Got it, but what is Salesforce used for?
You may be thinking — this all makes sense in theory but what does it actually mean for my business?
It means Customer 360 gives each of your departments the tools to build stronger and more authentic relationships with your customers:
Digital transformation isn't one size fits all. That's why you can tailor Customer 360's capabilities to your specific needs — from AI to analytics to integration to training. And beyond the technology, our global ecosystem of experts, app partners and services is always on hand, 24/7.
Sounds great, how does Salesforce work?
We help your company give your customers experiences they'll love.
Let's take a real example of how the beauty brand e.l.f. Cosmetics used Salesforce to give itself a business makeover.
To be successful in a digital-first world, e.l.f. Cosmetics had to make sure every customer touch point was relevant and consistent across channels. The company implemented a combo of Marketing Cloud, Commerce Cloud, and Service Cloud to transform those key functions in its business, giving shoppers the best marketing, shopping, and customer service experiences possible. These three solutions are working their data magic together so company leaders have a holistic view of the shopper before and after purchase, and can quickly adapt in real time to customers' cosmetic needs.
E.l.f. Cosmetics has seen amazing results using Customer 360:
Ecommerce that pays — e.l.f.'s ecommerce site is first in its sector, with an impressive 55% to 65% retention rate
Efficiencies that work — e.l.f.'s increased efficiency means the company can reassign employees from customer service case resolution to more forward-looking customer loyalty programs
The customer is at the center of everything that we do.

EKTA CHOPRA, VICE PRESIDENT OF DIGITAL, E.L.F. COSMETICS
Read the full story of e.l.f. Cosmetics' beautiful partnership with Salesforce here.
Why the obsession with customers?
You may have noticed we're pretty obsessed with putting customers right in the center of business. After all, we named our platform Customer 360.
Why so much customer love? Because over the last 20 years, customers' expectations for companies have skyrocketed. A whopping 84% of customers say the experience a company provides is as important as its products and services (see the Salesforce State of the Connected Customer report). Now, it's not only about what you offer customers, but when, where, why, and how you reach them.
84% of customers say the experience a company provides is as important as its products and services.

THIRD EDITION STATE OF THE CONNECTED CUSTOMER REPORT
In this customer-powered world, the most important thing you can build as a company is trust. Today's customers just want to trust they're getting what they need from you, when and where they need it. They want experiences to be effortless, and they're loyal to brands they can count on.
We know this isn't easy for every company. According to a recent study commissioned by Forrester Consulting, business leaders are overwhelmingly challenged by information silos that make it harder to provide quality experiences for their customers.
Here are some of the challenges facing business leaders today:
58% strongly agree or agree that customer/prospect and account data comes from too many sources to easily make sense of it
58% strongly agree or agree that the lack of an enterprise view of customer/prospect data is a problem
56% strongly agree or agree that organizational silos negatively impact the quality of their customers' or prospects' experience
The research shows these issues arise because companies take on transformation initiatives in departmental silos. Over half of the study's respondents report their CRM systems are at least somewhat fragmented across their company. While this approach may help solve a short-term business problem, it can make it harder to deliver better customer experiences down the road.
That's where Customer 360 comes in. It was built to tackle these issues head-on by bridging team silos and building trust with customers.
Read the full Forrester Study.
To learn more about Salesforce — from our history to our culture to our people — visit our About Us page. And if you'd like original research, how-to's, and more helpful Salesforce goodies in your inbox every week, subscribe to our newsletter.