Born to Sell: Grabbing the Brass Ring with Salesforce India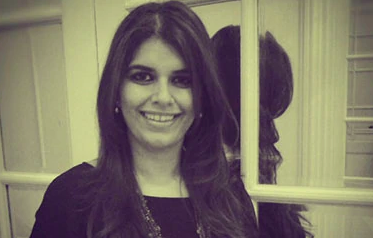 Namrata Singh loves to sell. Despite the currently male-dominated nature of sales — about which she speaks with great insight — nothing makes her happier than closing a deal. She never gets tired of that rush. So, for Namrata, the chance to join Salesforce was a dream come true. She tells her story with candor and enthusiasm.
How did your Salesforce adventure begin?
I was attending the Gartner Symposium in Goa when I got an email Michael, a principal recruiter for Salesforce Asia. He was keen to talk about a possible opportunity at Salesforce. The next thing I know, we're discussing my role, the company, Salesforce India and I'm asked to speak to my possible hiring manager. Everything goes as planned except the role is put on hold! But, a few agonizing weeks later, I meet the country head in Mumbai and the rest, as they say, is history. I joined Salesforce as an Account Executive in January 2017.
What inspired you to leave your previous company, where you worked for more than five years?
The striking thing about Michael was the pride he took in Salesforce. He was very transparent about the role, the process and why Salesforce would be a great fit for me. I was really drawn to the Salesforce success story and the concept of 1:1:1, which is so unique.
He never sold the job to me and that made me want it more. Having worked for five years with my prior company, Salesforce represented a wonderful opportunity to shine and be a part of something huge.
How did you get into sales?
At the start of my career, I was working with a media company. One of my colleagues asked if I would be interested in a "relationship building" role at American Express. It was building a new team for the American Express Platinum Card.
While that role was largely focused on upselling and cross-selling, it was my first real sales job. Customer facing, quota carrying, commission earning, and club winning — all the ingredients of a sales role. It was the first time I understood how sales and sales teams worked and what a wonderfully challenging role it was.
I never looked back after. I love the thrill of sales and the kick you get after closing every deal.
What is different about how we sell at Salesforce?
At Salesforce, we sell an experience. We want customers to understand that with Salesforce, they can reach their customers in ways they never imagined and equip their teams to be more productive, intelligent and farsighted.
We want to be a part of their growth journey — the engine that fuels their growth. This is how we position ourselves to clients. The best part of our pitch is how we are obsessed with customer success and we take it upon ourselves to make them successful.
We want to understand the customer challenges. What their vision is for the solution. Then we brainstorm what should be the best outcomes for their business. I'm a partner to the customer, not an OEM selling a CRM solution.
What do you love about being an Account Executive at Salesforce?
The role of an Account Executive is possibly one of the most rewarding in an organization. In your own small way, you contribute to the transformation of a large company by understanding its business needs and selling its value proposition. The client interactions, building a strong network in the industry and ensuring you are up to date on business and IT innovations also make this role attractive.
I'm part of the General Business team, which manages manufacturing, real estate, and professional services in Western India. It's part of the larger Commercial sales team. I have a quota that I need to make and that contributes to the overall sales numbers for India.
What does a typical day look like for you?
My day usually starts with two or three meetings — a combination of clients and prospects. Of course, there are also a lot of follow-up action items from previous meetings that I prioritise. Discussions with Solution Engineers and Co-primes also feature in my day since a lot of work happens in conjunction with them. Then there are one-on-one meetings with my manager on deals. Those are very important as well.
What's the most challenging part of working at Salesforce?
We are selling a premium product in a price sensitive market. So, it's rewarding to meet that challenge. Our products are the best in class and we ask for the price they deserve. That's when our skills as salespeople come into practice.
Sales is such a male-dominated industry. What are some of the barriers you face as a woman?
People have fixed perceptions or doubts about women in sales. Like can she handle the pressure to make quotas as well as her male colleagues? Will her manager need to be extra "soft" towards her while setting expectations and giving feedback instead of being candid?
These are internal challenges, but women also face challenges in customer meetings. For instance, it's well-known that a lot of bonding happens over drinks after work. Networking and building rapport frequently happen after hours. As a woman, I feel awkward meeting clients after work as it may be perceived incorrectly, so I don't do it. Instead, I focus on building trust and rapport during our scheduled meetings.
And in sales, you are literally on the road every day. Travel to client sites in any part of the city. Meet all kinds of people from backgrounds very different from yours. This can be daunting and something many women would rather not do. But I've been doing it for years and I thoroughly enjoy it.
Sales is perceived as a job for men. It requires a different mindset and mental toughness. So, women are discouraged from it. But we have seen many successful women in sales. They've triumphed in this role and set new benchmarks.
What makes a successful Account Executive at Salesforce?
Success at Salesforce is never individual but a series of collective successes. Collaboration is fundamental to your individual success because you work with multiple teams at each point of the sales cycle to help win deals and smash your quota.
The Salesforce culture is unique, and it inspires peak performance. You must have a winner's mindset and believe that you work in the best company in the world. That comes across in every single interaction inside and outside the company. As a trailblazer, the company pushes you to learn more, practice more and gain greater skill. This makes a perfect recipe for success!
Why Salesforce, why now?
When you work for one of the 
world's best employers
, the question should really be why not Salesforce? We are at the helm of innovation bringing real value to companies that engage with us. As the saying goes "Every company today is a technology company." And Salesforce is a huge contributor to building the technology. And, at a human level, very few companies are dedicated to the cause of 
making the world a better place
. So, if not now, then never.
3 facts others may not know about you:
I'm a fitness enthusiast and love to exercise five to six times a week.
An avid reader, I have over 500 books in my small home in Mumbai.
I'm also a travel junkie; I can literally pick up and go in minutes if need be.
Interested in joining Salesforce? Indicate your interest to their recruiting team.